Litter A"
Litter A
ALL RESERVED
The cute boy was born on December 29, 2015, from Rina and Miroslav. He was named AJ by his new parents and moved to his new home in March 2016.
If you would like to be considered as a future parent, please fill in the contact form.
Siberian Tale AJ, 9 weeks (March 1-7, 2016)
AJ is continuing building his independence. He is active and social and is now "asking" to play with him. His nails grew long enough to have their first "serious" trim. He is getting used to being groomed and having his paws touched. No bath so far; he and his mom are doing amazing job keeping his coat clean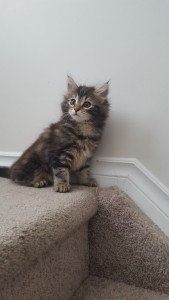 AJ at 8 weeks. The last few weeks were so busy for AJ. He spent more and more time away from his mom, building his independence but still cried out for her help when stuck under the sofa. His favorite toys are bright colored strings and plastic balls. AJ is getting quite good at tolerating small children. It is not an easy task with toddlers who want to play with him or get him into a truck or feed him a cookie… AJ had his first car ride, saw a veterinarian and got his first shots. He weight was over 2.5lb! Overall, the vet visit was not his favourite "things-to-do" of the week. He would have gladly skipped it all together if he could.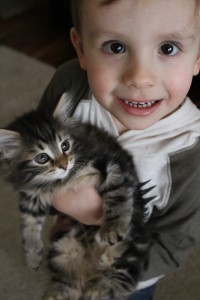 AJ at 5.5 weeks. He wants to explorer – under the sofa, inside the cupboards, behind the bookshelf, in front of the dog…. Rina is still close behind, watching out for anything dangerous (in her opinion, not AJ's)
AJ Siberian Tale, almost 5 weeks. He was introduced solid food this week and also began toilet training. The next couple of weeks he will be very busy learning new skills
SIBERIAN TALE AJ, 5 weeks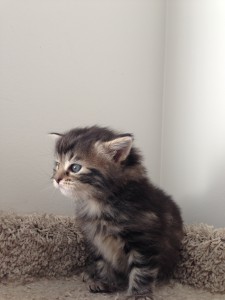 SIBERIAN TALE AJ, 4 weeks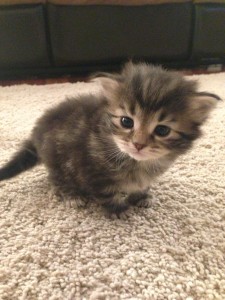 SIBERIAN TALE AJ, 3 weeks
T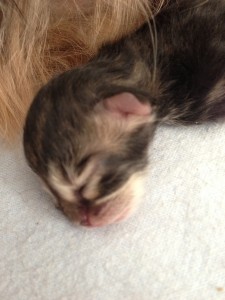 SIBERIAN TALE AJ, the photo was taken 20 minutes after he was born