Litter "L"
Nine kittens were born on April 12, 2019. The proud parents are Nestor and Caya.
We have 5 boys named Leroy, Luke, Leon, Lucky and Loki, and 4 girls, named Lacey, Lexi, Lola and Laska.
5 Weeks
Kittens are fully potty trained and are eating solids. They are discovering toys but still not sure how to play with some of them. For example, they are very confused with a 3-tier toy with ball  they climb on top of it instead of playing with balls, silly babies.
6 Weeks
Kittens are getting more agile and daring. They climb and jump and try to mimic everything their mother does. It is so funny to watch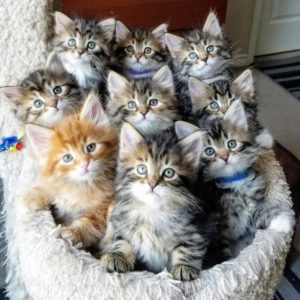 10-12 weeks
Socialization period is finished. Kittens were spayed/ neutered and had their last booster and the health check. Soon they will be joining their new families 🙂